Director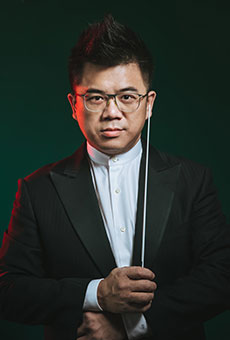 Huang Guang You|
conductor
Tainan City Traditional Orchestra∣Leader & Conductor
MA in Chinese Culture University
Guang You Huang is often invited to be the guest conductor among many orchestras. He is recognized as an outstanding conductor by music industry, because of his subtle and sensitive interpretation of music, meanwhile, he also has a holistic understanding of the characteristics of Chinese music by expressing his conducting with precision.
Dr. Paul Vermel at Northwestern University, and a noted conductor in the U.S., commented Guang You Huang's conducting as "the conductor with a profound musicality". Dr. Mauris Press (professor at Queen's College, New York, former conductor of New York Philharmonic) recognized his conducting as "the conductor with profound charisma and talent. There is an article titled "a conductor roaming between sense and sensibility" in the fiftieth issue of National Chinese Orchestra Taiwan monthly magazine, Lingering. In the article, there is a detail description of Huang's charismatic conducting style.
He is the founder of ZhongHua Chinese Orchestra, TzanYin Chinese Orchestra, Kinmen Chinese Orchestra, and TFG&CKSH Alumnus Chinese Classical Orchestra, and he was both music director and conductor in all of them.
In addition, he has numerous collaborations with National Chinese Orchestra Taiwan, Taipei Chinese Orchestra, Kaohsiung Chinese Orchestra, Taoyuan Chinese Orchestra, China National Traditional Orchestra, China Radio Traditional Orchestra, Hong Kong Chinese Orchestra, The Macao Chinese Orchestra, Guangdong National Orchestra, Jiangsu National Orchestra, Anhui National Orchestra, Macao Cheong Hong Orchestra, Xiamen Youth National Orchestra, Windpipe Chinese Music Ensemble, Tainan National University of the Arts Chinese Orchestra, En Role Symphony Orchestra, Hong Kong YWCA Chinese Orchestra, Chiayi Traditional Orchestra, Chinyuan Traditional Orchestra, Your-music Chinese Orchestra, Taichung City Hakka Chinese Orchestra, Dachung Chinese Orchestra, and Taipei Youth Chinese Orchestra. He is the director of Chinese Music Association, Taiwan, R.O.C. as well, and currently teaching at Chinese Culture University and National Taiwan College of Performing Arts.
He was the producer and conductor of the record "Tian Hua, Liu 120 Years Memorial Album", and was nominated the best traditional music album in 2017 The Golden Melody Awards for Traditional Arts and Music. "The Bells of Haiin Temple"(by the composer Chang Yuan Liu) was nominated the best creation- composing category in 2018 The Golden Melody Awards for Traditional Arts and Music.